The Davidson Prize is an ideas competition recognising transformative architecture of the home
The Davidson Prize is an annual design ideas competition recognising transformative architecture of the home. The prize exists to celebrate innovative design ideas, to encourage multi-disciplinary collaboration and to promote compelling visual communication.
The 2023 theme is Somewhere to Call Home, which asks teams to design new solutions for homelessness.

Register Now
A place to call home is a fundamental human need. But, in the UK and Eire, increasing numbers of people are homeless or perilously close to it. In England in 2022, Shelter reported an 11% increase between January and March, with 74,230 people becoming homeless or being at imminent risk – including 25,610 families with children.
The 2023 Davidson Prize brief asks multi-disciplinary teams, which must include at least one architect registered in the UK or Eire, to communicate innovative design solutions for a home community where people who have experienced the trauma of homelessness and housing insecurity are given time to settle, recover and find their bearings

The People's Choice Prize.

The winner of the People's Choice will be announced during The Davidson Prize award ceremony in June 2023.

Judges
Sadie Morgan OBE, BA (HONS), MA, DU LSBU (HON.), FRSA, HON FRIBA (Chair)
Co-founder of dRMM and Founder of the Quality of Life Foundation
Sadie Morgan is a co-founding director of dRMM, a RIBA Stirling-Prize-winning architecture studio. Other roles include chairing the Design Panel for High Speed Two (HS2) and the Ebbsfleet Design Forum; chairing the Cross Cutting Committee for Homes England, for which she is a board member; and acting as commissioner for the National Infrastructure Commission (NIC).
Sadie is part of the core group of the West Midlands Future Taskforce, the Net Zero Building's Council, and the RSA Food, Farming and Countryside Commission. In 2013, she became the youngest president of the Architectural Association, followed by an honorary doctorate from London South Bank University, Professorship at the University of Westminster, Honorary Doctorate from the University College of Estate Management, and visiting Professorship in Sustainable Urban Design at Cambridge University.
Sadie is a Mayor of London Design Advocate. In 2018, she established the Quality of Life Foundation, advocating wellbeing in the built environment.
Yemí Aládérun
Senior Development Manager at Meridian Water for Enfield Council
Yemí Aládérun is an architect and senior development manager at Meridian Water for Enfield Council. She is an advocate for education, income & housing equality and is extremely passionate about social mobility and broadening access to the built environment.
Yemí is a non-executive board member of Women's Pioneer Housing association, ambassador for The Architects Benevolent Society, co-founder of the PARADIGM Network, core team member of Part W. She also served as an elected national council member for Royal Institute of British Architects and as an appointed panel member of numerous Design Review Panels, she is part of a network of professionals providing expert advice and support to Local Authorities on challenging and often complicated built environment projects across the UK. She was selected as one the UK's next generation of boundary-pushing designers and innovators by the Architect's Journal in its 40 under 40 cohort for 2020.
Osama Bhutta
Director of Policy, Campaigns and Communications at Shelter
Glasgow-born Osama has won campaigns, persuaded audiences, influenced governments, and built growth in his work all around the world. He joined Shelter in August 2021, as director of communications, policy and campaigns at Shelter UK, fighting for everyone to have a safe, decent and affordable home. He previously served as global director of marketing & communications at Amnesty International where he oversaw brand, news and media, creative, and digital engagement. His team won campaigns all around the world and achieved the organisation's very ambitious growth targets.

Prior to that he devised and implemented the approach which transformed the global reputation of Al Jazeera Media Network. These tactics created a breakthrough moment for the network in the US and drew it level with the audience numbers of more established competitors like CNN and BBC in target APAC and EMEA markets. He also coordinated a multi-award winning campaign which secured the release of four jailed journalists in Egypt.
Charles Holland
Principal of Charles Holland Architects

Winner of the 2022 Davidson Prize. Charles is an architect, teacher and writer. He is the principal of Charles Holland Architects (CHA), an architecture and design practice based in Dover, in Kent. The practice's work includes houses, education, public realm and exhibition design projects for clients including the Victoria and Albert Museum, the National Trust, the Sir John Soane's Museum and Living Architecture. Prior to forming CHA, Charles was a director of FAT Architecture where he was the principal in charge of a number of the practice's key projects including A House For Essex, a collaboration with the artist Grayson Perry.
Charles is a Professor of Architecture at the University for the Creative Arts, Canterbury and a Visiting Lecturer at the University of Cambridge. He contributes to numerous magazines and industry journals, lectures regularly about the work of his practice. He is currently writing a book for Yale University Press entitled How to Enjoy Architecture.
Priya Khanchandani MA (Cantab) MA (RCA) FRSA
Head of Curatorial & Interpretation at the Design Museum
British writer and curator Priya Khanchandani is the head of curatorial at the Design Museum. She studied at Cambridge University and embarked on a prestigious early career as a lawyer at a magic circle firm, prior to embarking on a postgraduate degree in design history at the Royal College of Art.
She has since worked across curation and design journalism, becoming the first female editor of Icon magazine in 2018. Her recent projects at the Design Museum include curating The Offbeat Sari, a major gallery exhibition and book launching in May 2023, as well as Yinka Ilori: Parables for Happiness, Bethany Williams: Alternative Systems, and Amy: Beyond the Stage. An advocate for plurality in the arts, she is an advisory member of Design Can and the New Architecture Writers and a co-founder of the collective Museum Detox. She was a trustee of Chisenhale Gallery for five years and is now on the board of the Hepworth Wakefield.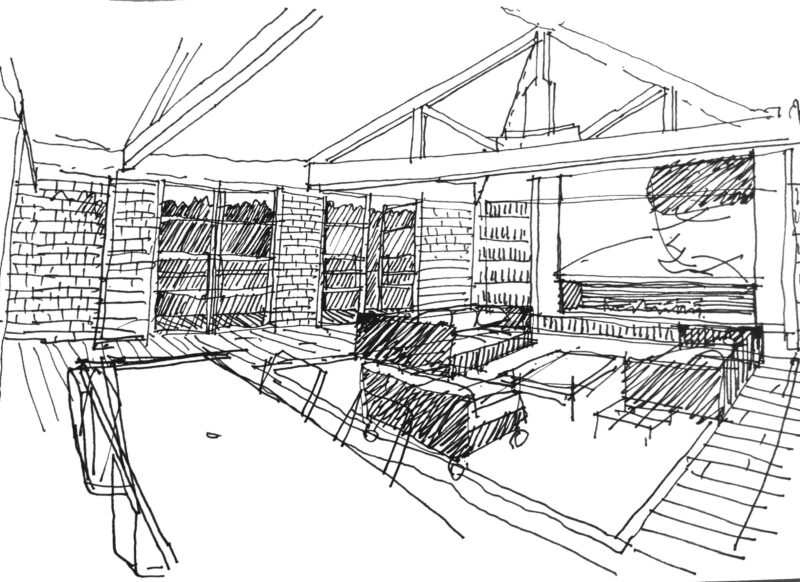 The Davidson Prize rewards architecture that imaginatively rethinks the design of the contemporary home to keep pace with the times and people's lifestyle preferences.
The aim is to promote excellent design and wellbeing and the compelling communication of these solutions.
Each year the prize will address a different aspect of the home, starting with home/work. Three finalist teams will each receive an honorarium of £5,000 and the winner will receive a £10,000 prize.